About Me | the Bored Engineer
If you want to learn more about me, you're in the right place!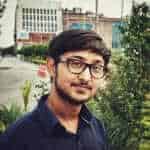 Hi! this is the Bored Engineer. Thanks a lot for taking an interest in me. As the name of this website suggests, I'm an engineer by trade.
I have a Bachelor's degree in Electronics & Communication Engineering and a Master's in Automotive Electronics.
For the past few years, I have been working in the Automotive Industry on the development and testing of software for vehicles.
Since my early college days and maybe even before that, I have had a deep interest in fields like Embedded Systems, Control Systems, Machine Learning, Robotics and AI. I started by making small projects with Arduino boards, basically teaching myself through various free resources on the Internet. I learnt a lot like this and hence my desire to give back.
I want to create a community of learners with a thirst for Knowledge. If you are passionate and curious about technology then I feel you are in the right place. Feel free to take a look at the various courses and posts presented here and I am sure you will not be disappointed.
My hobbies include reading and writing, watching movies, video games and trying new kinds of food. I am a dog person and I'm an introvert by nature. 
All right…that's enough about me and thanks a lot if you are still reading this. Now I would love to hear from you. Feel free to contact me with your thoughts and I promise to get back to you.